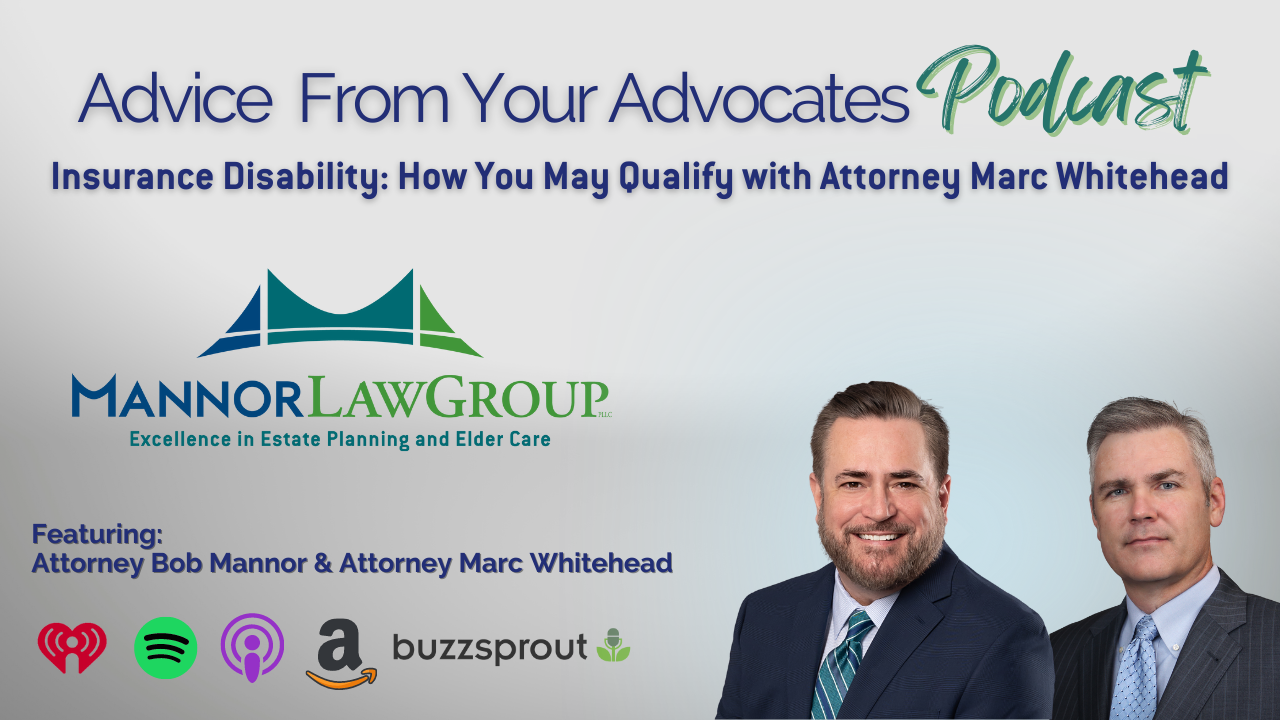 On this episode of Advice From Your Advocates, Bob sat down with Marc Whitehead, Founding Attorney of Marc Whitehead & Associates to discuss Insurance Disability claims in terms of benefits and the different types of insurance disability claims.
Listen to this episode now for insights into Insurance Disability. For instance, those individuals who are still in the workforce, it is important to elect into your offered group policy plan, and additionally to consider a private individual plan. These plans can be stacked together and are important to consider to help cover all potential lost income should you become disabled at any point in your working life. For those individuals who are eligible for social security plans, you are entitled to triple up and have disability benefits from there, your group employer plan and an individual plan. It is important to note that social security plans will be the primary source to begin with when filing claims, as the private plan and group plan will pay the remaining difference of what social security covers. If there is an instance where an individual becomes permanently disabled and therefore can no longer work, they will then become eligible for Medicare.
Marc noted that it is quite common through group plans to be denied claims. There are many legal protections that only exist through private plans so that is particularly why he always advocates for them as a supplemental policy. This is especially important for high income earners as group policies are not set up to cover the majority of your income. Marc also noted that 1/5 American's will become disabled in their work life, even if only temporarily, as many diseases can come into play during this period of your life.
If your claim is denied, you have a right to appeal it within 180 days. It is imperative to work with a firm like Marc Whitehead & Associates if you're denied to ensure that a thorough investigation with supporting evidence is sent back in your appeal, as your appeal truly serves as a real trial of your case. For those with pre-existing health conditions, it is also helpful to have a doctor who is willing to back certain claims about any advancements of your condition, as insurance companies have the right and ability to look back at past history before accepting or rejecting any claims. This is especially important if you're newer to a plan and policy that you may have onboarded within the past two years. Chronic conditions often come into play in many instances so clients can plan ahead with the right team in place to ensure that the claim is accepted the first time. Marc Whitehead & Associates can take cases from all over the country since these are government mandated programs, and not specific by state. For more information or inquiries, please feel free to contact the firm at 713-228-8888 or disabilitydenials.com. To speak with Marc directly, you can email: marc@marcwhitehead.com.
Listen to this episode here on our website or on your favorite streaming platform.