In 2020, an estimated 276,480 new women in the US will be diagnosed with cases of invasive breast cancer. That's one out of every eight women you know who may battle this disease. October is Breast Cancer Awareness month, which is about so much more than showing off the color pink. It's about survival. It's about hope. Mannor Law Group has our own story of hope. This story is about Wendy.
If you've called our office, chances are, you've spoken with her. Wendy Strayer is a Client Service Specialist at Mannor Law Group. She shows up to the office every day with a smile. The whole team agrees, she has the most positive attitude of anyone you will ever meet. You would never know from speaking with Wendy that she has been through some arduous times.
Wendy's Story of Hope, Positivity & Survival
This interview with Wendy explores more than just her journey from diagnosis to recovery. When you finish reading her story, you'll see what the Mannor Law Group team sees every day. She is a shining example of how a positive attitude can lend so much to overcoming adversity.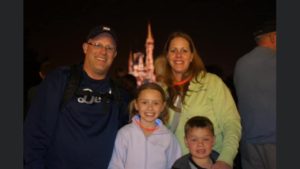 1. When were you diagnosed with breast cancer and at what age?
I was diagnosed April 12, 2012. I was only 37 years old.
2. What stage of breast cancer were you diagnosed with?
I was diagnosed with Invasive Ductal Carcinoma. The grade of the cell gives you information on the growth rate and pattern based on the appearance of the cells. They are graded on a 1-3 scale with 3 being most aggressive. I was Grade 3. The Cancer had spread to my lymph nodes. 
3. How was the cancer initially detected?
I found it while taking a shower. Of course, I went to Web MD, and they said finding lumps can be somewhat common for women. Wait a week, if it's still there call your doctor. It was still there, so I called and scheduled an appointment with my ob/gyn who then referred me to the St. Joe's Women's Health Center in Ann Arbor for my first and my only mammogram.  After reviewing the mammogram they immediately did an ultrasound-guided biopsy of the tumor and lymph nodes.
4. How did you feel when you first received the news?
Three days after my mammogram and biopsy, they called me at work to tell me it was breast cancer.  I was absolutely speechless and just went numb. I went home and told my family.  The biopsy had caused severe bruising and soreness. I wasn't able to hide it from my young children who were then only five and eight years old. I was honest and assured them everything would be fine. 
My surgeon and ob/gyn both were instrumental in setting the tone for positive attitude from day one. The first appointment after my diagnosis was with my team of doctors, and the first thing they said was "You're going to be fine."   
I kept saying to myself: "this is just a bump in the road. One year, and you will be done."  That "you will be fine" is what truly set the bar.  I only cried twice over my breast cancer journey.  I decided two things early on: I didn't have time for cancer, and it didn't deserve my tears.
5. Is there a family history of breast cancer?
At the time of my diagnosis, there was no history of any cancer in our family. Since that time, my mom was diagnosed with and passed away from gall bladder cancer. 
6. Did you have a support network?
My family was wonderfully supportive. I had two small children who were very involved with sports, and I worked full time. I leaned on my daughter's soccer families who generously insisted on providing meals on my chemo days. I relied on chicken soup and almond boneless chicken with white rice. Those meals were a lifesaver! 
7. Tell us about your treatment process
My diagnosis and treatment plan were unique due to my age. I had also gone through genetic counseling and testing for the BRCA gene, and it came back negative. Originally, my goal was to preserve the breast and have a lumpectomy instead of a mastectomy.  My oncologist wanted to try a newer treatment plan due to my young age where I would do chemo first then surgery and radiation. I started my first chemo treatment on May 17, 2012.
I had four treatments of the AC-T (Adriamycin, Cyclophosphamide & Taxol) regimen.  These were lengthy 4+ hour treatments.  They would also administer Pepcid and Benadryl to help with the side effects and allergic reactions. I ended up napping through those treatments. So much for my lofty goals to start & finish the book The Help during my 3+ month chemo schedule…Still haven't finished it! 
After the initial four treatments (the big ones) I had 12 weekly mini-treatments of only Taxol.  My last chemo treatment was September 28, 2012.  I baked pink cupcakes for the staff at the chemo center, and I was so happy to ring the chemo bell! This was one step closer to it being over.  The next step was surgery on November 22, 2012.  
After chemo the doctors determined my tumor had shrunk in half. I only cared what the reoccurrence statistics were. They determined with my treatment plan and with a lumpectomy, my reoccurrence chance was 15%.  I was only 37 years old, and that number was too high.  I asked what the reoccurrence chance if I had a double mastectomy along with my treatment plan.  They said less than 1%.  That was a no brainer.  Change of plans double mastectomy it is.  
I met with a reconstructive plastic surgeon.  At my surgery, he put in temporary spacers until after I had & healed from radiation therapy. From early Jan-to end of February I had radiation treatments everyday Monday-Friday. I would stop and get them on my way to work every morning. In the beginning, they were fairly easy. But, the fatigue and stress accumulates with every treatment.  I had my final reconstruction surgery April 9, 2013. Three days shy of one year from my diagnosis.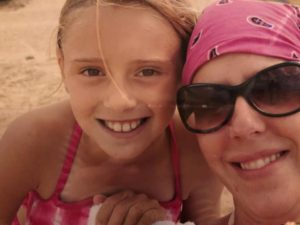 8. Were there any programs or services offered to you helped with the treatment process?
The American Cancer Society & the St. Joe's staff were instrumental in offering support. St. Joe's offered various services from counseling, dietician, massage therapist, hair salon & clothing.  My favorite, were the therapy dogs that would sit me during chemo.
The St. Joe's Women's Health Center had a wonderful nurse navigator that called me the next day after receiving the diagnosis.  I was still processing the news, but she walked me through what was happening.
The American Cancer Society was also instrumental in providing support at my chemo and radiation treatments. The side effects of chemo & radiation sometimes happened so fast. They were there to provide counseling, scarves or wigs, books etc.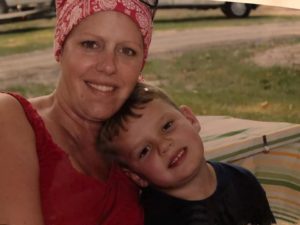 9. Did you face any obstacles during your treatment process? If so, how did you overcome them?
Lots of obstacles. Mostly I prayed my counts were high enough each week to get chemo. I had to postpone one week when my cell counts had dropped too low.  The toughest parts of chemo were losing my finger nails, hair, eye brows and I ended up with sores in my mouth.  So eating and drinking was tough. Towards the end of radiation I had a rather large severe burn from radiation.
10. What message would you like to provide women in the community?
When the doctor recommends the prescription mouth rinse for mouth sores or burn cream for radiation burn use it!  I insisted on no narcotics during my treatment but I should have treated my side effects.

Lean on your family friends & helpers.  I had a wonderful support system at home.  They let me sulk and be sick on the few occasions when I wasn't feeling well, but not for long.  My children were young and didn't cut me any slack.  Their reason "you don't act like you're sick".

Listen to your body.  It's ok to slow down if you're tired.

Use any and all resources offered to you.  They want to help.  You are not inconveniencing them. Usually there's little or no cost.

Exercising was key to battling the after effects & chronic pain.  I have had no pain since I started religiously working out.

Give yourself grace.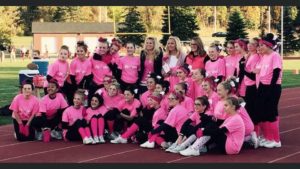 I get teased that I'm the worst spokesperson for Breast cancer. In fact this is the first year I'm participating in fundraising campaign walking 35 miles for ACS. I own very little pink clothing and accessories although pink is my favorite color! 
I found my mission when friends started reaching out to me about their friends who were diagnosed and struggling. "Can they call you?" they would ask. Absolutely! I have talked numerous women "off the ledge". They were devastated and thought this it my life is over. I have spent hours, days, and months texting and talking these women through every step of their treatments. I feel that was my calling. I was able to give them the " you're going to be fine" strength they needed to get through it.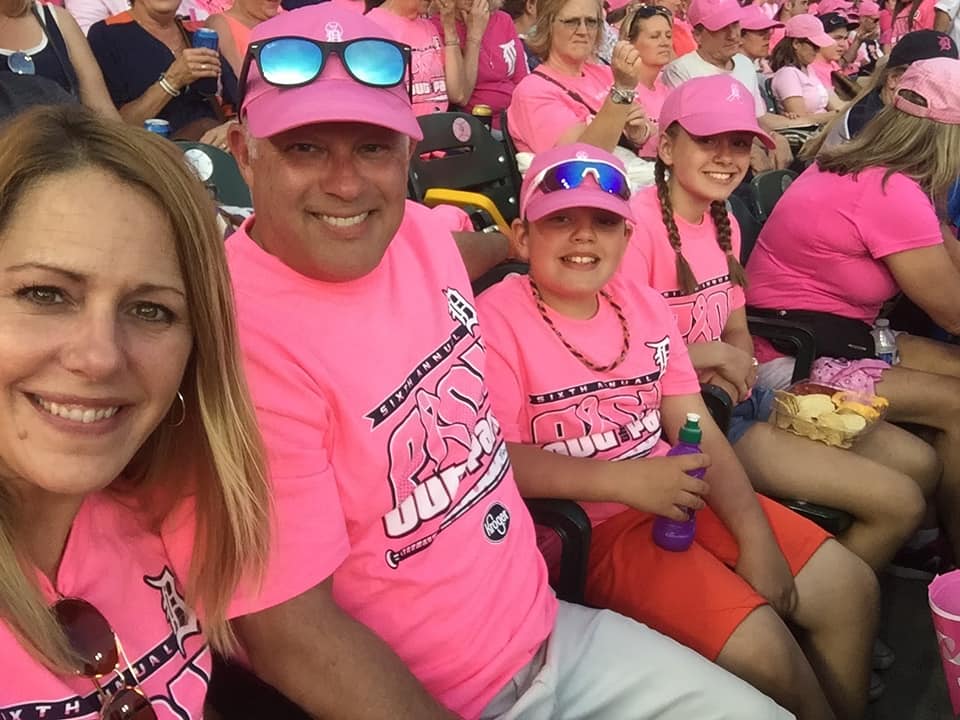 You can see why Mannor Law Group is proud to have a pink ribbon warrior like Wendy on our team! Her positive attitude is a gift that keeps on giving. Not only did it help her during her own difficult times, but she is using that gift to help other breast cancer fighters on their own journeys. From diagnosis to remission and beyond, Wendy is a shining example something we try to embody here at Mannor Law Group.  Life isn't always going to be easy, but the right attitude (and planning) can make difference you need – when you need it most.
Who Is On Your Support Team?
If you or anyone you know is battling a difficult diagnosis or treatment journey and would like to talk about the ways legal planning can bring peace of mind, contact Mannor Law Group.