Two Licensed Social Workers Join Mannor Law Group's Life Care Planning Team
Danielle Chwalibog, MSW and David Strunk, LMSW are the newest members of the Mannor Law Group team and will act as the firm's Elder Care Coordination team, serving Michigan's elder community.
It's not often that you meet social workers at a law firm, but Mannor Law Group has a habit of being somewhat unconventional, especially when it comes to helping families. As an estate planning and elder law firm with a focus on dementia and Alzheimer's disease, Mannor Law Group has an entire life care planning team dedicated to helping families navigate the difficulties and financial burdens of dementia and elder care.
The Role of Elder Care Coordinator
Having a parent or spouse with dementia, or needing long-term care, requires a plan and action. It is here where our social work team steps in. David and Danielle have only been with Mannor Law Group for a collective six months, but in that short time, they have assisted many families facing this transition.
In their shared position of Elder Care Coordinator, they go a step further than the advice a family would typically get from an attorney. They guide families through every step of the elder care journey, especially during a crisis. That could mean working closely with care providers to determine appropriate levels of care, making sure families understand a diagnosis, or advocating so the patient doesn't fall through the cracks upon discharge from a hospital or care facility.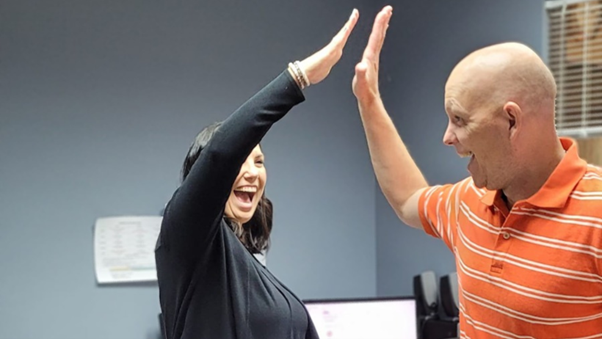 About David
Prior to joining Mannor Law Group, David worked in palliative care, medical chronic care management, hospice, home health, bereavement counseling, and mental health case management. He received his master's degree from Michigan State University School of Social Work and received a BA in Psychology from the University of Michigan – Flint. David has also received a Certificate for Gerontology Social Work from MSU and recently became a Certified Positive Psychology Practitioner. He is also working on becoming a Certified Dementia Practitioner.
In his new role as Elder Care Coordinator, David relies on his knowledge and experience to help families with the ever-changing needs that come from aging. In fact, much of what he enjoys about his position saying, "No one day is like the day before." And that he is "provided with endless opportunities to educate, advocate, and learn."
About Danielle
Danielle has 7+ years of experience as a medical social worker in a nursing home and hospital setting, which is a strong asset when helping the law firm's clients and their families navigate the health and medical challenges that come with getting older. She earned a master's degree in Social Work from Wayne State University and her BA in Social Work from Siena Heights University. Danielle has personally experienced the difficulties of placing a loved one in a facility with her grandmother, which inspired her passion to help future clients and their families who are now facing this same difficult decision.
As an Elder Care Coordinator, Danielle leans on her personal and professional experience to provide a support and advocacy that helps older people and their families attain the highest quality of life. She enjoys getting to know her clients on a personal level, saying "I enjoy the interaction with clients and hearing their stories, such as their life experiences, past careers, and life lessons."
Life Care Planning
Life Care Planning looks different for every individual and every family. David, Danielle, and the entire Life Care Planning team work together to support every family's specific needs, even as those needs continue to change. Both David and Danielle bring a unique and valuable set of skills and experience to Mannor Law Group. They use these skills together, as a team, to ensure every Life Care Planning client is met with the same level of service and attention.
Mannor Law Group is a dementia-focused estate planning & elder law firm that helps families plan and prepare for all stages of life. This includes young adults who are just starting out, those facing end-of-life decisions, and everyone in between.
For more information about Life Care Planning or any other services we offer at Mannor Law Group, explore our website or call (810) 645-8426.  You can also contact us via our online form here.