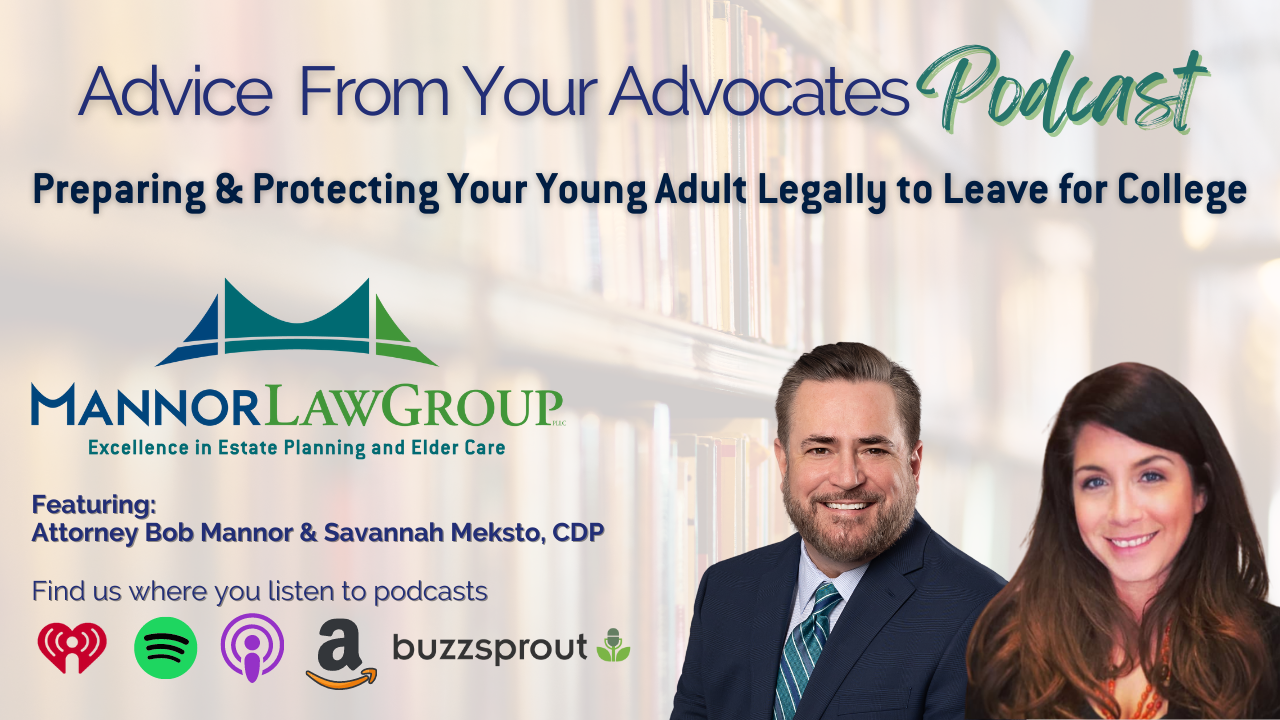 Advice From Your Advocates Podcast Producer, Savannah Meksto, who is also Executive Director and Certified Dementia Practitioner at Mannor Law Group joins Attorney Bob Mannor in front of the mic (and camera) on this special podcast episode.
Bob and Savannah discuss a helpful service we provide known as the Young Adult Protection Plan. Savannah was instrumental in the creation of this service due to having a college-age child. She elaborates on the importance of implementing this option within your own life, or the life of someone else who might benefit.
Once an individual turns 18 years old, they are seen as full adults in the eyes of the law and therefore guardians lose access to their personal information.
In the US, once an individual turns eighteen years old, they are seen as full adults in the eyes of the law and therefore guardians lose access to their personal information. This can affect guardians when they are considering their youth's finances, hospital visits, and potential legal issues.
Anyone over the age of eighteen should seriously consider appointing someone in their life that they love and trust to make decisions for them if they should become incapacitated. If this type of agreement is not put into place and an emergency occurs, you may have to go to court and ask a judge for these rights. This can often be a lengthy process which doesn't help in times of duress.
What is included in the Young Adult Protection Plan?
Power of attorney document
Financial document
Health care power of attorney document and/or health care patient advocate document
Privacy waiver
Simple Will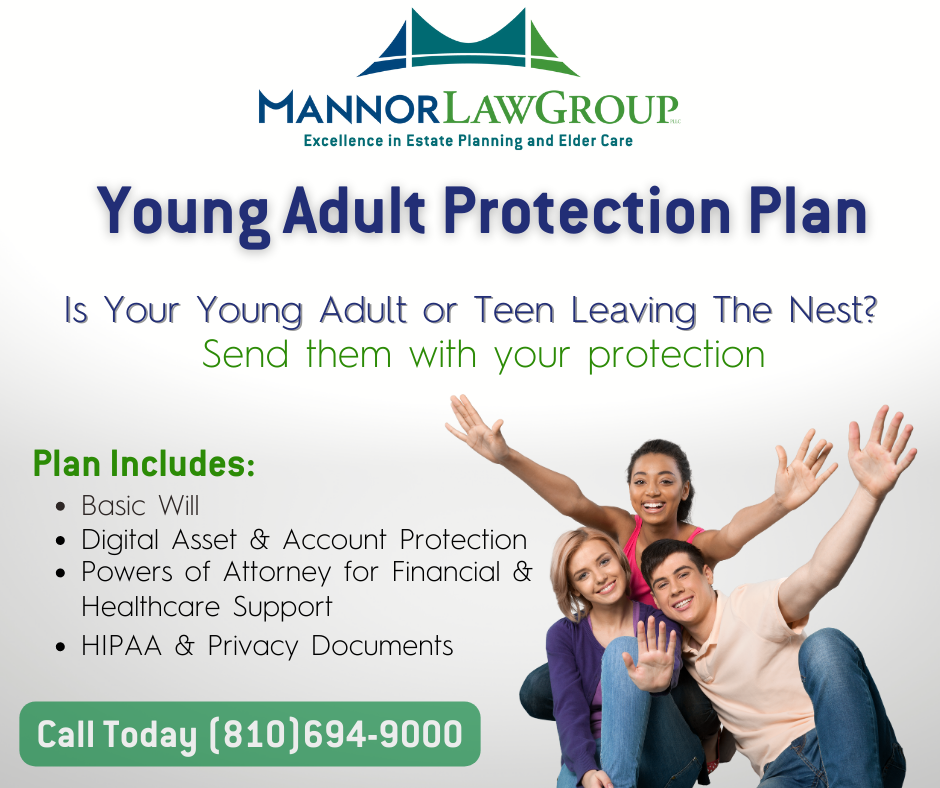 The above five documents have been well thought out by our team in lieu of emergency occurrences that protect the young adult and appointed individual through guaranteeing accessibility to: bank accounts, medical emergencies, and potential decision points around those. It will also account for unfortunate circumstances that may involve wrongful death suits allowance of proceeds to be granted to whom the individual deems their guardian, vs. first of kin.

We know that life can get complicated, and in times of unforeseen urgencies, it is of the utmost importance to have your affairs in order so that the person you trust most can advocate for you in all situations. We also know young adults are busy and not included to a lengthy, complicated planning process.

What Steps Are Required?

This planning tool can be created with a process shorter than what our other clients may have been used to. It will only require one visit with our team to ensure the documents are correct and sign. The documents are sent home with our clients following their signing.

We'd love to further speak with anyone who might have additional questions around setting up a Youth Protection Plan for someone in their life whom they care about or for. Please know that these plans can be put into place for anyone above the age of eighteen, as it is never too early or too late to plan for the unknown. To begin the process, please call: 1-800-990-6030 today to talk to someone about scheduling an appointment.

Watch this episode of Advice From Your Advocates below. You can also find us wherever you listen to podcasts or download episodes directly from our website.

Listen to this episode here on our website or on your favorite streaming platform.