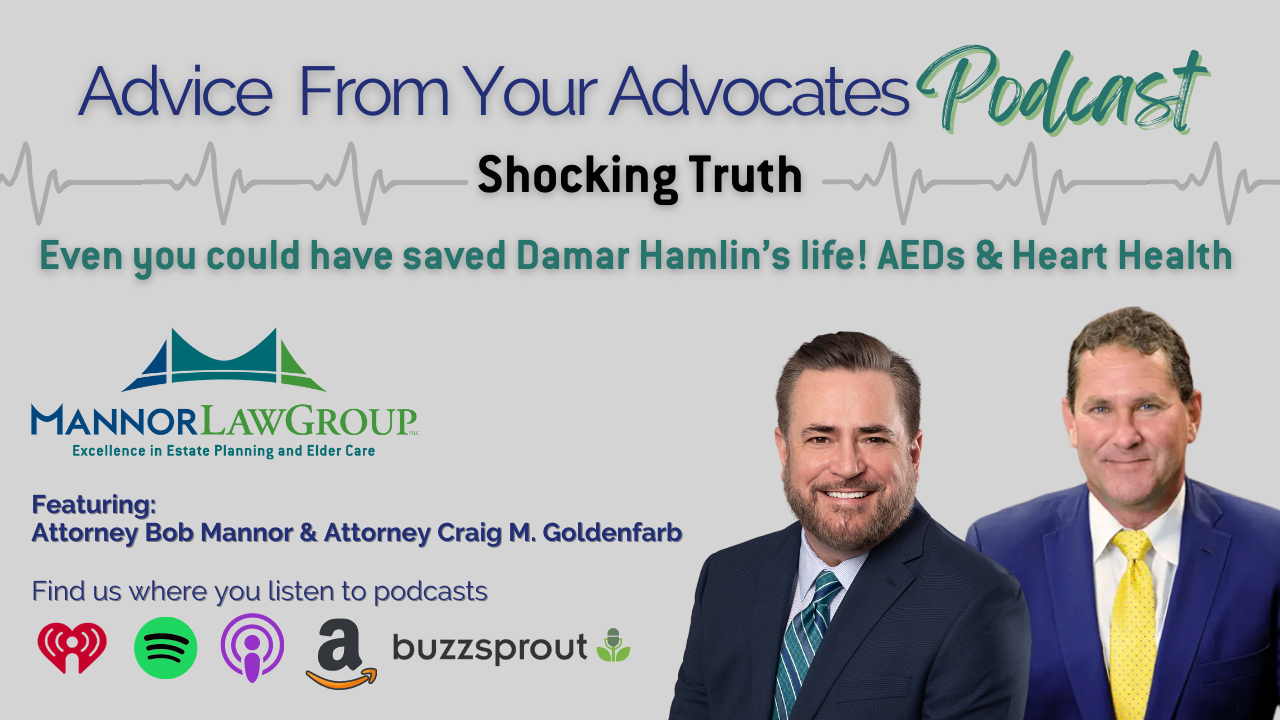 On this episode of Advice From Your Advocates podcast, Bob sat down with Craig Goldenfarb, Esq. who is a personal injury attorney with a practice based in Florida to discuss defibrillators and his charity that he founded through his advocacy work; Heart of the Game, Inc.

Craig was inspired to start his charity through all the cases that he has covered throughout the US on this critical topic. On the podcast, Craig stated that 350-400,000 people will suffer from a sudden cardiac arrest and ultimately pass away each year. Of those, up to ten thousand cases per year are kids, who often have a congenital heart defect that they didn't know existed. Craig knew further action needed to be taken to help prevent some of these cases, and founded Heart of the Game, Inc. to provide free defibrillators and trainings on CPR throughout his personal state of Florida. At present, he has given away over 40 devices.

The overall goal of the charity is to have AED available and placed in an easily noticeable space to be utilized in the precious moments of urgency where they are needed. He noted that his team also helps design implementation plan in order to help with the best course of action if it should be needed. Throughout the US, the Good Samaritan Act, includes requirements regarding these devices within their sub sections. For example, the AED device is required in gyms in about 10-15 states; however, Craig feels adamant that this should be increased to all states. Federal law also accounts for these life saving devices and requires them in every airport since 1983, and every federal building. Most sporting venues and golf courses also feature them, but that is not currently consistent throughout the US either.

The device costs anywhere from $1200-$1300 with a yearly maintenance fee of $100. Craig explained the importance of having these devices present in all businesses, as he relates it to the same importance of having a fire extinguisher present. Each device has training that is not hard and offers life changing safety to anyone in a business setting. The devices come in two ways; however, the more common way is the portable/automated device which is the consumer model. Studies show that you only have to have the intellect of a 9-year-old to understand the prompts on it. A lot of fear points can be heightened when needing to use this device, however, the consumer model literally talks you through each step and is crucial to save a life. Pads analyze the heart rhythm, and the device will speak to the user for next steps. The machine will decide if a shock is needed, and when to resume CPR. If the machine is utilized within the first 3-5 minutes, along with CPR ,there is a 90% survival rate. For every minute beyond that, survival rate decreases by 20%. Additionally, national ambulance response time is 7-9 minutes, which many times can be too late, and why these devices truly make life chaning differences in many cases.

Finally, for those who might wonder what the liability is if you were to utilize a device to help someone, please know that there is a lack of causation, meaning what you did not cause an individual to die (if that unfortunate occurrence takes place) –as it's the machine not the user. Please know that every state has a protection in place for individuals who elect to use these devices to help others. Craig notes that he has never in 30 years had a case against an individual for screwing up usage. However, the business on the other hand can be at risk due to availability, lack of training, or overall difficulty to locate. If you'd like to buy a defibrillator in your state, you can simply google "buy a defibrillator in", etc. and will be able to locate a resource near your city. If you're interested in donating to or hearing more about Craig's charity, you can visit their website: https://heartgame.org/.

Listen to this episode here on our website or on your favorite streaming platform.