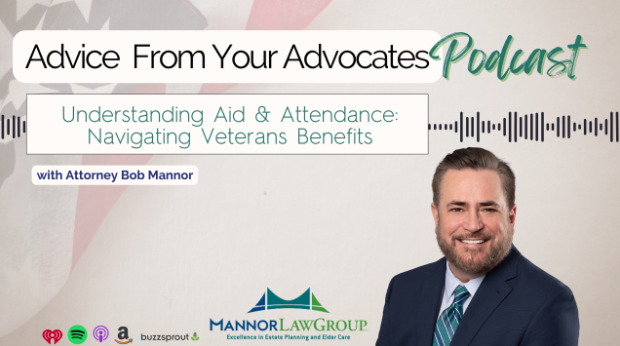 The Aid and Attendance benefit, nestled under the Veterans Administration's improved pension program, is a potentially life-changing benefit for elder veterans. However, the complexities and intricacies of this program can often make it challenging to navigate. In our recent podcast episode, our host Attorney Bob Mannor, an accredited expert by the Veterans Administration and a nationally board-certified elder law attorney, walked us through the ins and outs of this remarkable benefit.
The Aid and Attendance benefit is essentially a reimbursement program for elderly veterans who lack any other source of income. This can prove to be a game-changer, particularly for those concerned about expenses related to independent living, assisted living, nursing home, and even in-home care. In this episode, Bob elaborates on the special criteria required to unlock these benefits, providing invaluable insights that could potentially transform lives.
A significant aspect of our discussion revolved around the impact of changes in asset rules and gifting on the Aid and Attendance benefit. Bob shed light on these changes, elucidating on the grandfathering of assets gifted before October 18th, 2018, the exemption rules for house and two acres, and the new modifications to the income annuity rule. The understanding of these rules is paramount to the optimal utilization of the Aid and Attendance benefit.
Bob also touched upon the types of assets allowed, how to stay qualified for the benefit, and the potential consequences of transferring assets. This information is crucial for those looking to maximize their benefits while minimizing potential drawbacks.
The Aid and Attendance benefit, despite being an incredible resource, is not well-known. This is why our podcast episode is an essential listen for elder veterans and their families. Armed with this knowledge, one can make informed decisions and maximize the potential benefits available to them.
Furthermore, understanding these benefits is not only crucial for veterans but also beneficial for professionals working with the elderly. This conversation provides comprehensive insights that can prove invaluable for those in the field of elder law and care. By understanding the Aid and Attendance benefit program, one can better guide and support elder veterans in their journey through independent living, assisted living, or in-home care.
In conclusion, this Advice From Your Advocates podcast episode with Attorney Bob Mannor is a deep dive into the world of Veterans' benefits, particularly the Aid and Attendance benefit program. Whether you are a veteran, a family member, or a professional working with the elderly, this episode is an enlightening journey through a program that could potentially alter the course of an elder veteran's life.
To learn more about how Mannor Law Group can help you or a loved one qualify for Aid & Attendance, please contact our firm.
Ways to Listen to Advice From Your Advocates